White Paper: Intelligent Growth – Professional Services Productivity Depends on Information Visibility
2016 should be a good year in the professional services (PS) market. After global independent research of over 500 leading consultancies, Service Performance Insight (SPI) is predicting growth of 10 percent. While there is good demand for PS services, there are many obstacles for ambitious firms to overcome if they want to grow quickly and sustainably.
The growing sales pressure and rising employee attrition PS firms are facing have led to lower revenue per consultant. However, profitability has risen due to on-going cost-cutting measures. To continue to meet growth and profit objectives, PS executives must continue to focu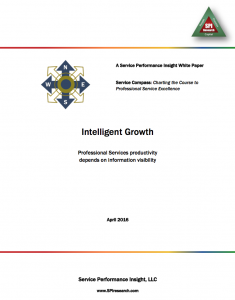 s on sales, talent and service delivery.
To do this, information visibility is key.
This whitepaper explains:
The pressures PS firms are facing as they look to grow
The productivity advances that are possible when organizations use accounting solutions for financial management, client relationship management for sales and marketing, and professional services automation for resource management, time and expense management and service delivery
How new solutions can act as a catalyst for the business change needed to grow, allowing new and less experienced people to take on more responsibility
How aligning and empowering the entire organization with information visibility will lead to profitable professional services growth
Download your free copy of this white paper below and learn how to take your professional services organization to the next level.