Executives Don't Make the Most Important Decisions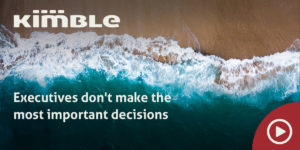 Traditional decision-making structures in business follow the military-industrial "command and control" paradigm, but that's not the right model in 2019. It's far more effective to empower those on the frontlines to make good decisions on a daily basis, thereby creating enough actionable data for executives to take the next steps. How can you enable that level of empowerment and engagement at your organization?
In this presentation, part of the TSIA virtual summit, Mark Robinson, CMO of Kimble Applications, will guide you in making rational, data-driven decisions from the bottom-up, helping you drive customer satisfaction and profitability.
Join Kimble for this 30-minute webinar, part of the three-hour TSIA Virtual Summit, to learn more.
WEBINAR START TIME: June 20, 2019 / 1:35 PM ET / 6:35 PM BST