Three of the Top Five Fastest-Growing Consulting Organizations are Kimble Customers
March 15, 2017
Kimble today congratulates three of its customers on being named among the top five highest-performing consulting organizations by a leading research firm.
SPI Research, the leading independent technology services research firm, named global IT consultancies Neueda,  CirrusOne and Mason Advisory among the top five of 2017 Best-of-the-Best professional services organizations (PSO).
SPI's tenth extensive annual survey, the PS Maturity™ Benchmark, revealed top performers grew both revenues and new jobs at more than twice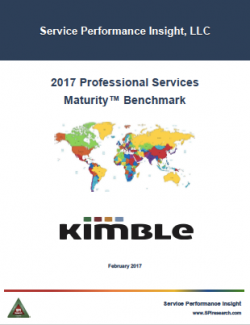 the rate of average firms.  
Kimble CMO Mark Robinson said: "We are delighted to hear of our customers' success.  They are all sustaining their rapid expansion in a controlled way, maintaining high levels of customer satisfaction while delivering bigger projects. We know that many of our customers do grow faster than the average – Kimble provides great support for rapidly expanding organizations who want to link sales with delivery. These firms outperformed their peers and the benchmark average with not only significantly higher profits but also larger projects and more satisfied clients."
Further, the top performers had year-over-year service revenue growth that far outpaced the growth rate of over 400 consulting organizations who took part in the benchmark. To support their expansion, the Best-of-the-Best augmented their consulting workforces by 16.9% compared to 5.9% headcount growth for other firms in SPI's benchmark.
416 firms representing over 200,000 consultants from around the world participated in this benchmark. The 2017 report offers a decade's worth of insight and analysis into the market with a view into the key success factors that drive exceptional performance.
SPI Research has conducted in-depth analyses of the top five percent of PS Maturity™ Benchmark participants to uncover the reasons for their superlative performance. Top performers tend to be more specialized than average firms. They concentrate on high-growth segments (Cloud, Security, Talent and IT) or vertical industries like services and healthcare where they are often the market leader. Because of their sterling reputations, a significant portion of their business comes from referrals.
Best-of-the Best Comparison to Average Consulting firms:

The Kimble customers listed as the SPI's top performers 2017 are:  
Neueda is a global IT consultancy, training and software development company with specific industry focus on Public Sector, Utilities and Capital Markets.  
CirrusOne specializes in the delivery of complex CPQ, CLM, billing and customer success solutions.
Mason Advisory is a UK-based IT consulting firm that works with clients to solve complex business challenges through the intelligent use of IT.
The annual benchmark from SPI Research draws on a database of over 2,482 PS organizations to provide in-depth analysis of PS metrics and performance. For the 2017 report, 416 companies representing more than 200,000 consultants provided input. The complete 2017 PS Maturity™ Benchmark report is now available for purchase.
Service Performance Insight (SPI) is a global research, consulting and training organization dedicated to helping professional service organizations (PSOs) make quantum improvements in productivity and profit. In 2007, SPI developed the PS Maturity Model™ as a strategic planning and management framework. It is now the industry-leading performance improvement tool used by over 15,000 service and project-oriented organizations to chart their course to service excellence.
Website link: http://www.spiresearch.com/psmaturitymodel/2017-best-of-the-best.html
Twitter:  #PSbestofthebest