Webinar: The RMI 2019 State of Resource Management: Key Trends and Latest Industry Research, March 7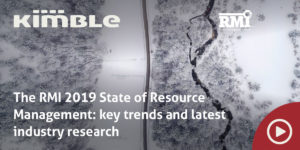 The Resource Management Institute (RMI), dedicated to the advancement of resource and workforce management thought leadership, best practices and standards, and globally recognized credentials that certify resource management expertise, invites you to join the fifth annual webcast on the State of Resource Management!
The RMI continues to conduct extensive research in resource management and compile beneficial information to help project-based businesses benchmark their RM operations and learn how other companies are addressing the most complex resource management challenges related to strategy, process and technology support.
This highly informative webcast will cover the latest in resource management research and discuss key trends and best practices being used to address some of the most complex resource management challenges for project-based businesses in the IT services space. If you represent a professional or consulting services organization, an enterprise/IT team, or a product development organization, you won't want to miss this important webcast!
Live Webinar: Mar 7, 2019
Register Now