2018 Professional Services Maturity™ Benchmark — Download
Kimble Applications is a sponsor of Service Performance Insight's Professional Services Maturity™ Benchmark Report for the fourth year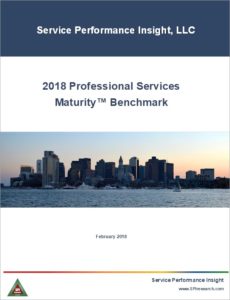 running. Since 2008, the SPI Research PS Maturity Model has been the de facto framework for strategic planning and management. More than 20,000 service and project-oriented organizations have already used it to improve their productivity and profit. Through our sponsorship, we are able to offer you this report, which normally costs $1495, for free.
Download the free report to:
Better understand how your organization compares to your peers as well as to the broader consulting market
Get an objective, fact-based framework that will help pinpoint the areas for performance improvement that will give you the greatest impact
We hope you find the report useful and would be delighted to talk to you about how we can similarly help your consulting organization to scale both rapidly and sustainably.