The Business Growth Report | Growth Matters
DACH Employees Pragmatically Assess Company Growth, Americans are Obsessed with It
London, June 6, 2019 – Kimble Applications, the world's leading manufacturer of PSA software, has published a "Business Growth Report" that examines the growth obsession worldwide: The survey, conducted in the DACH region, the UK and the U.S., looked at the importance that employees attach to business growth, both personally and professionally, and what they would be willing to do to be part of a growing business.
It turns out that the DACH region is not quite as obsessed with corporate growth as their U.S. counterparts. U.S. employees seem to take more of an interest in organizational growth while DACH employees take other factors into account
Growth motivated, but not as much as in the USA
Corporate growth as a motivator- this also applies to the German-speaking countries. 62% of all DACH survey participants stated that it is important to them that the company in which they work is on a growth course. 17% were undecided and only 21% didn't care about this factor. However, the Germans, Austrians and Swiss are not quite as obsessed with Growth as the U.S.. Compared to the Kimble survey results in the USA, 85% of the employees across the pond stated that growth is important. Only 8% of Americans were not interested in this factor.

---
More work for more growth? In the USA: "Yeah", in DACH: "Meh"
This discrepancy between US growth obsession and DACH pragmatism is also evident in the issue of working hours. While 70% of all Americans stated that they preferred to work overtime in a high-growth company, in the DACH region it is just 35% who would go the celebrated extra mile. 26% are undecided on the subject of extra work, 39% prefer to forego growth in favor of a regular 40-hour week.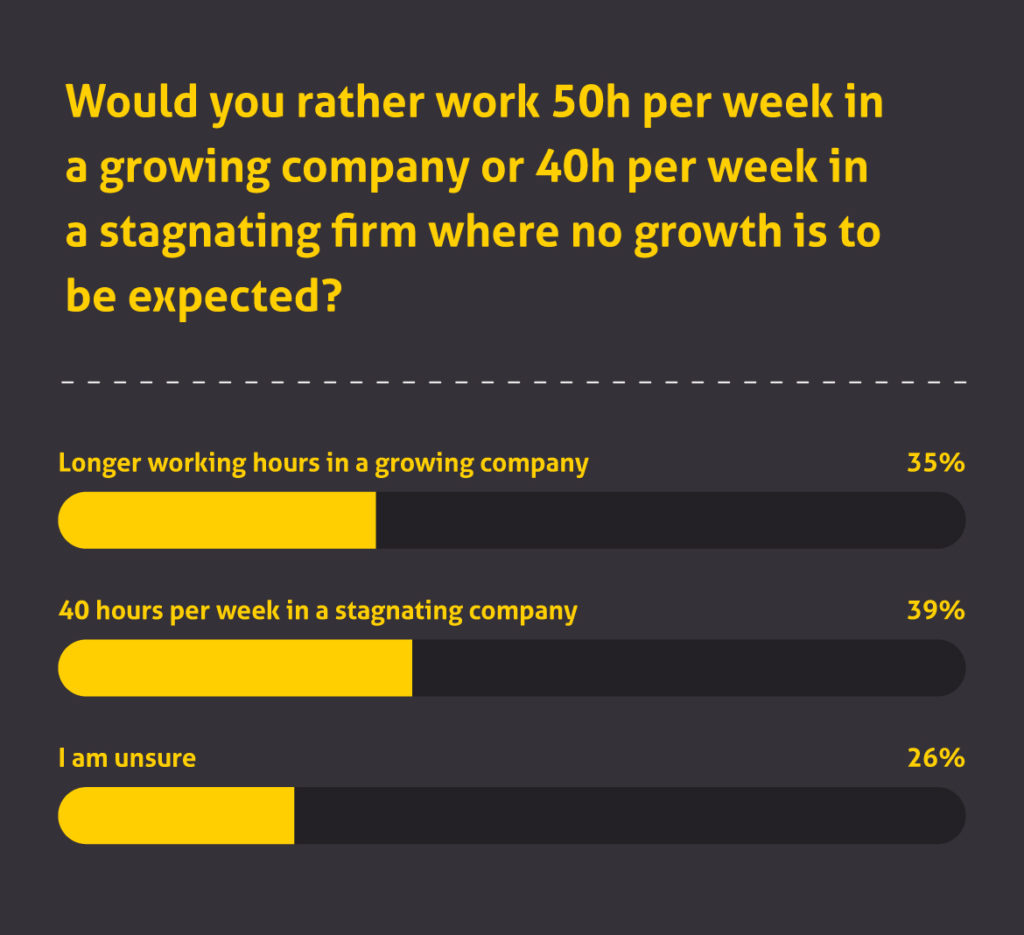 ---
Direct connection between personal commitment and company growth
Nevertheless, the DACH survey participants are convinced that their own efforts have a direct impact on the company's growth. 52% see a direct impact of their work on the growth of their company, 24% were unsure and 24% saw no connection. By comparison, respondents in the US were more confident: an overwhelming majority of 80% said that their work had a direct impact on company's growth.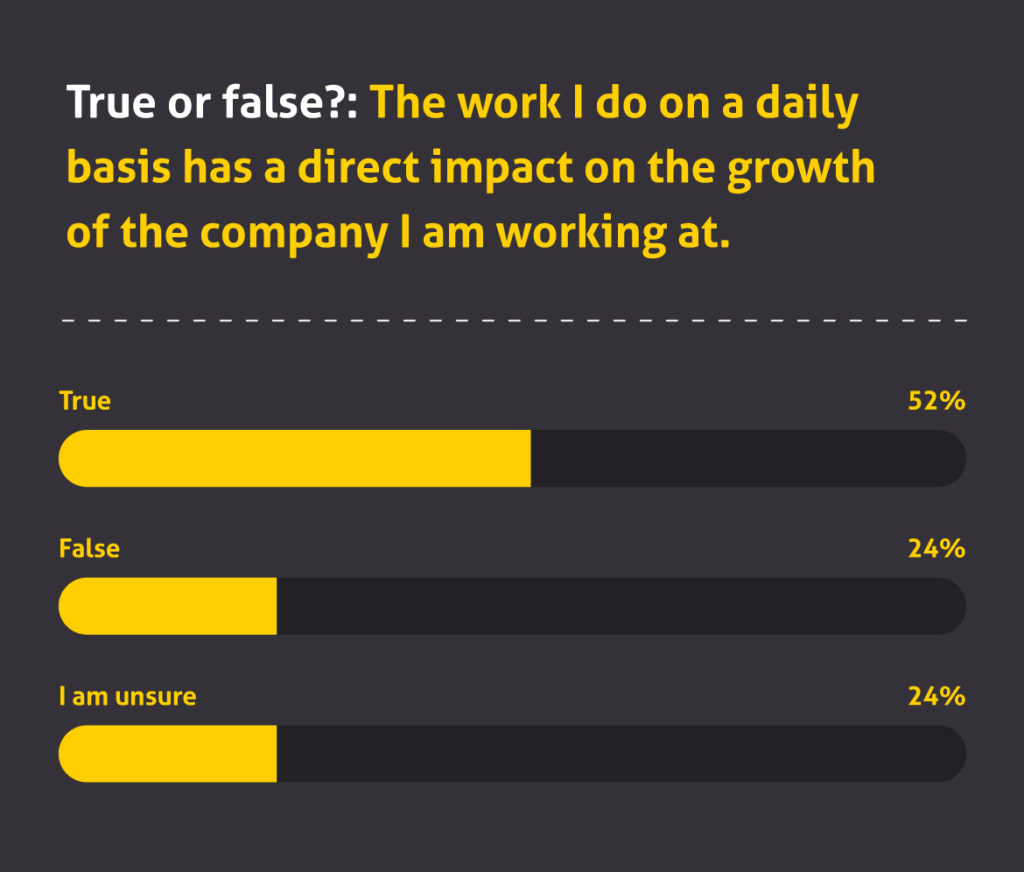 ---
It's not all about money: fulfillment and development count as well
Surprisingly, only every third (33%) DACH survey participant felt that they were in their current profession because of money. 48% responded with other personal reasons such as fulfilment through work (25%) or career development (23%). 14% saw their primary motivation in helping their company grow. In the USA, on the other hand, 36% looked primarily at money as the motivating factor.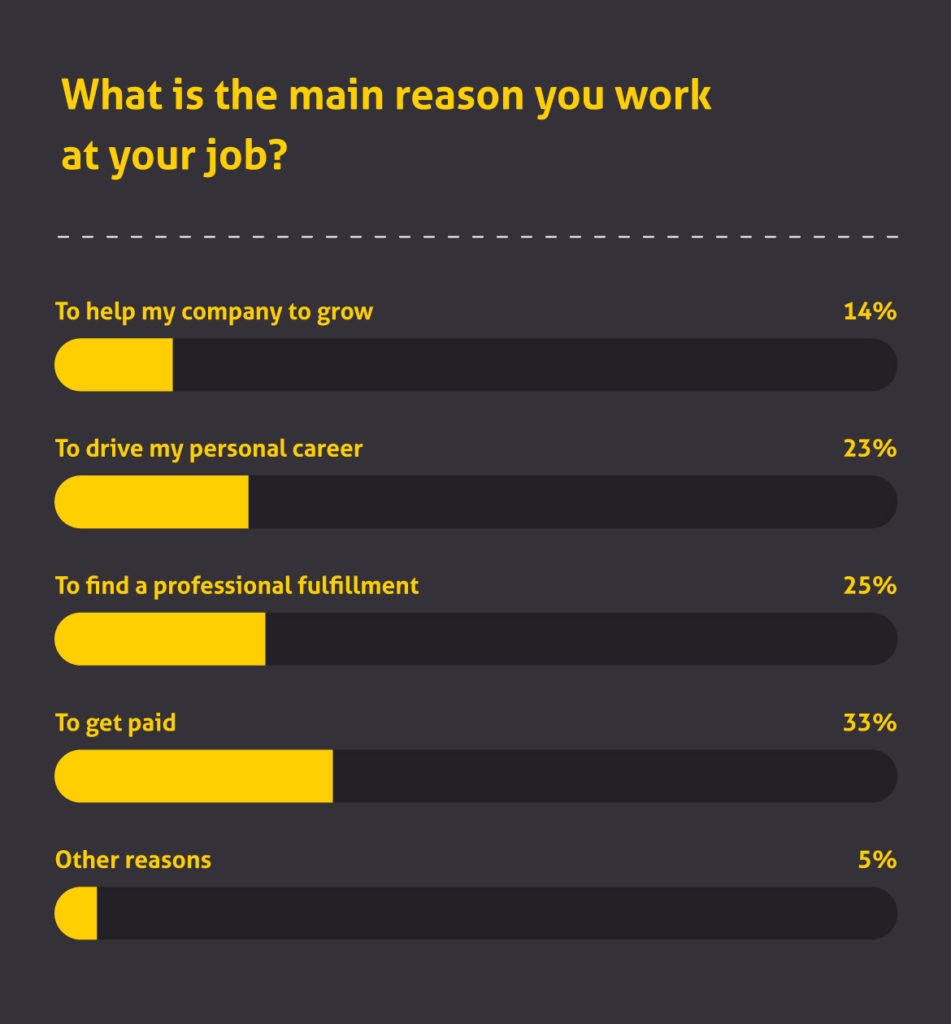 ---
Start-ups score points with corporations on the subject of fulfillment
This search for personal fulfillment is also reflected in the answers to the question of what would motivate DACH employees to stay with a high-growth start-up instead of pursuing a corporate career. 46% gave the feeling of personal fulfillment as the reason for this – and were thus clearly ahead of the USA, where only 28% saw this as their motivation. In the USA, on the other hand, better pay in start-ups dominated (33%), while only 16% of all DACH respondents regarded this as a basis for decision-making.

---
Company growth also allows employees to grow
There is agreement on the question of whether the growth of a company also affects the professional development of employees. 76% agreed with this statement, and only 9% opposed it. In the DACH Region, 15% of respondents were left undecided. Kimble saw similar results in the USA.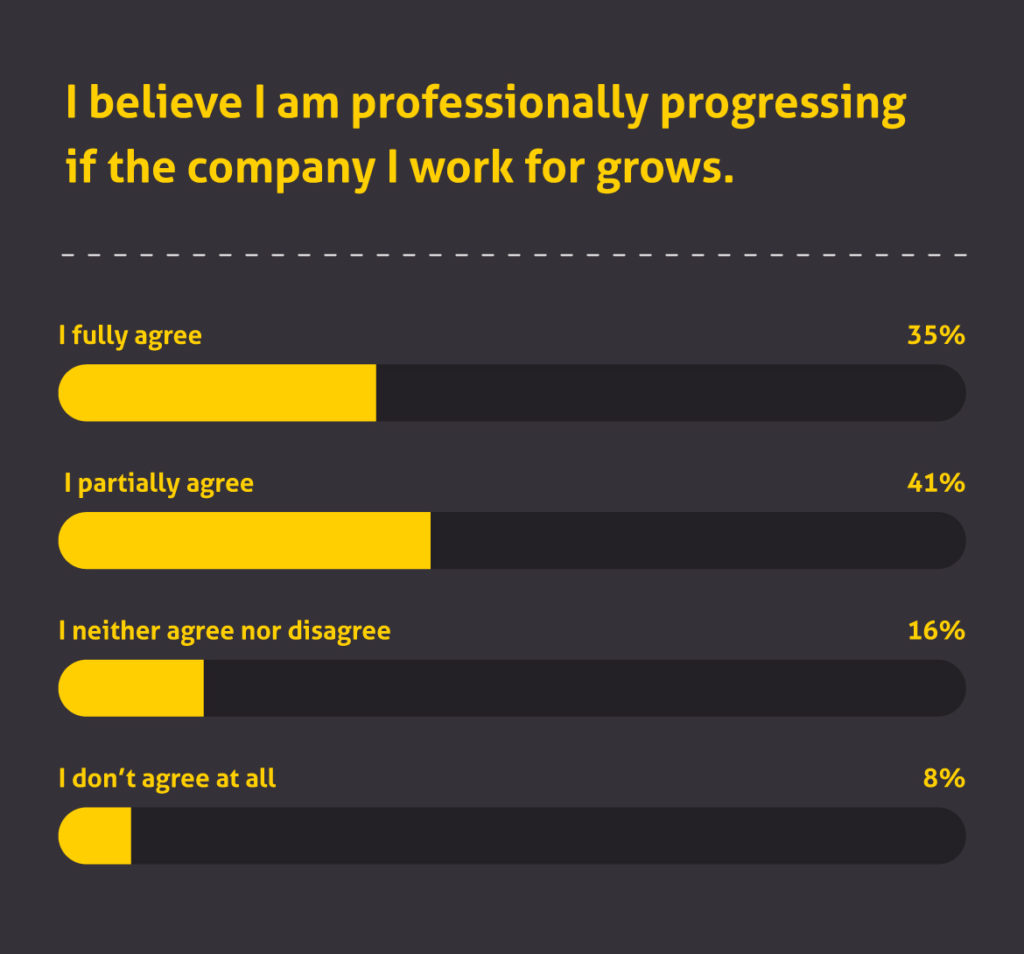 ---
Growth makes employees happy
In addition, working in a high-growth company contributes to well-being: At least every second DACH respondent supported this statement. For comparison: In the USA, 66% even felt better when their company was doing well.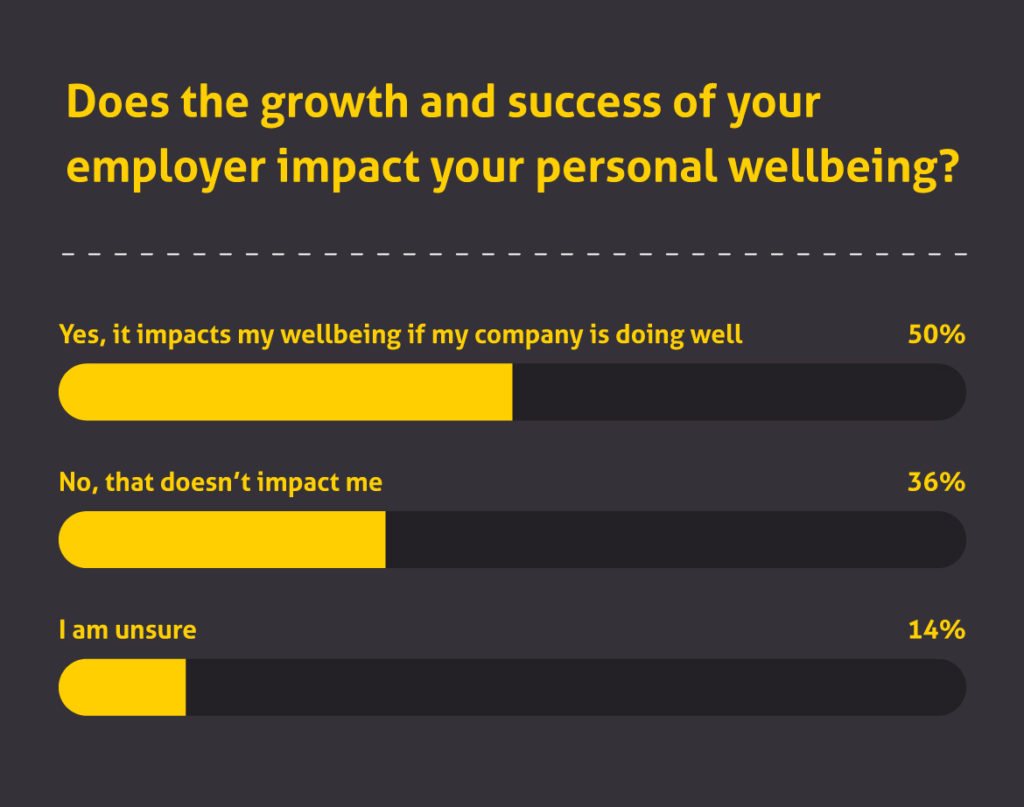 ---
DACH employees: Even with more passion for the cause than Americans
When asked what they would define as meaningful work for themselves, the DACH survey respondents answered with an activity or sector that they are passionate about (57%) – and surprisingly ended up even ahead of the USA, where 53% made this statement. In both markets, work that improves the world follows in second place (DACH 31% / USA 36%).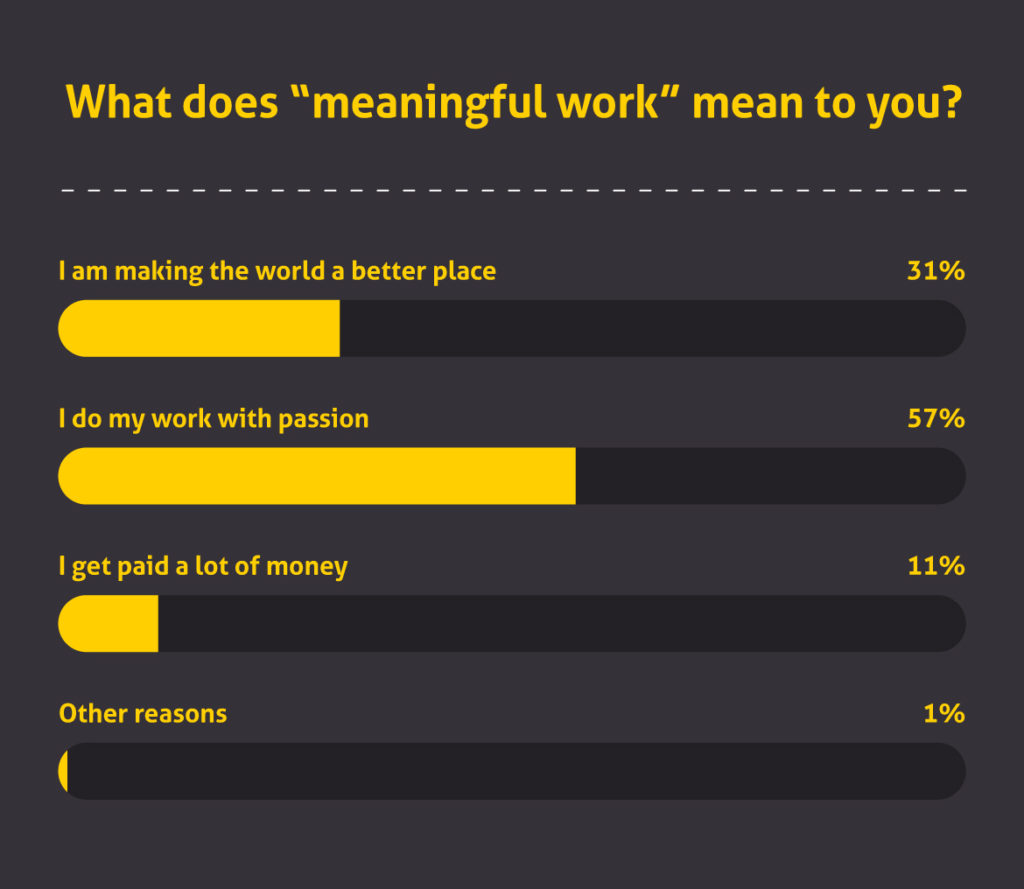 ---
Leaving home for a high-growth company? DACH employees show flexibility
Would you consider moving away from home for the opportunity to work for a high-growth organization? It turns out that as much as 70% of DACH respondents would actually consider making the jump. One in every 4th survey respondent (27%) would leave for a high-growth company regardless of location.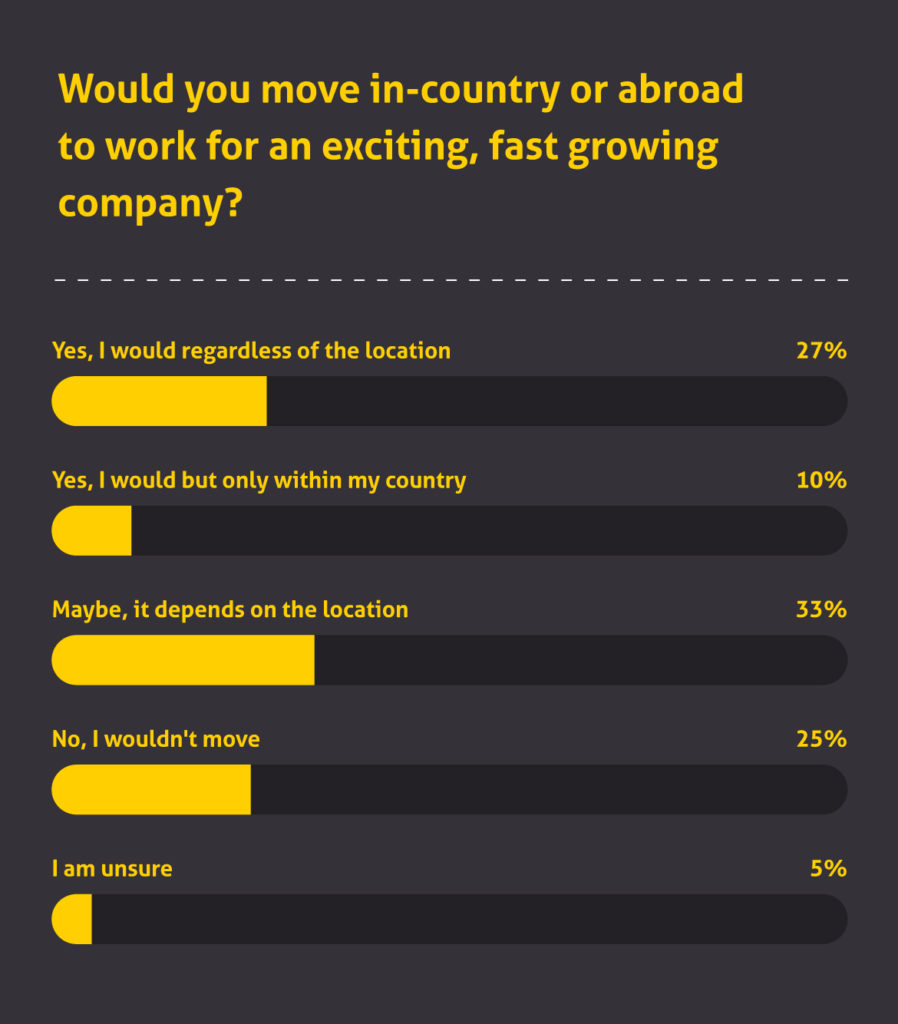 ---
Job change due to stagnation? Not the case for everyone, but at least every fourth person goes that far.
If your own company does not grow, almost every fourth person (22% DACH / 27% USA) has already drawn the line for exactly this reason and submitted his or her notice of termination. In times of a shortage of skilled workers, this is another good reason for companies to prioritise the issue of growth.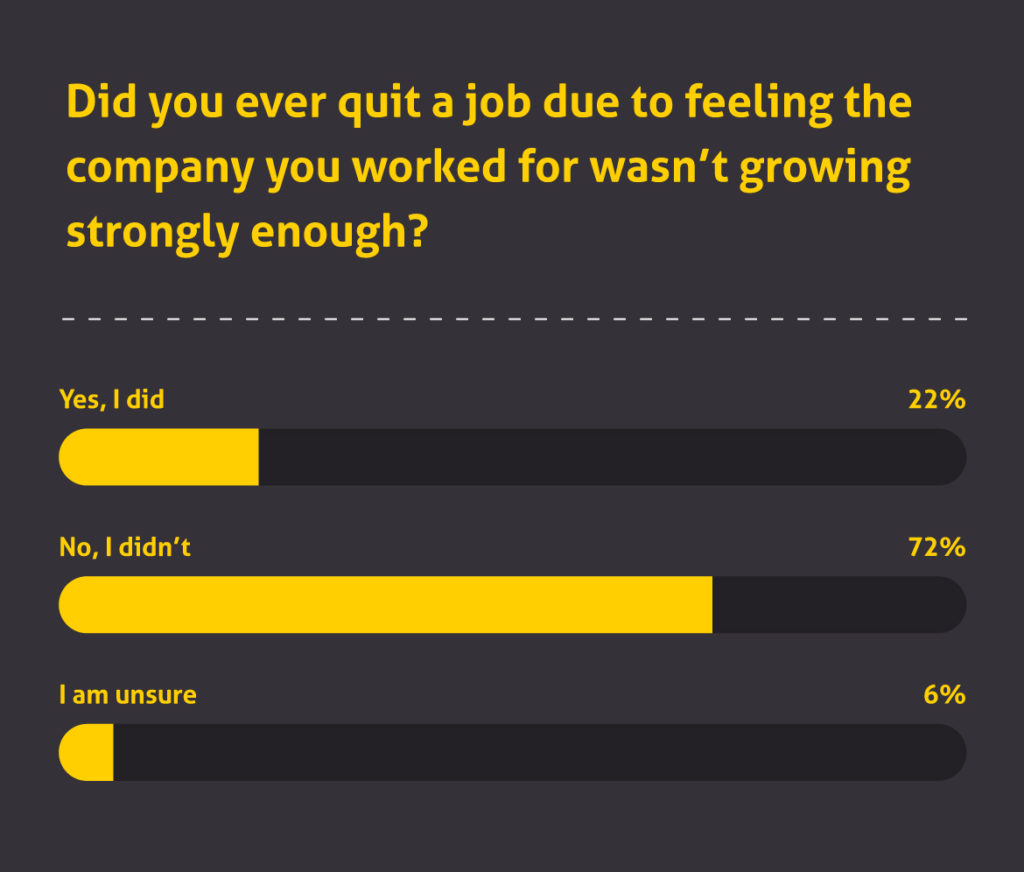 ---
No growth envy
Higher, faster, further – while DACH respondents appreciate growth, they are still not jealous of the sometimes faster-growing competition. 78% saw no envy for employees of other companies and were even more generous than their colleagues in the USA, where the figure was 75%.