Design a Disciplined Month-end Close | Kimble Best Practice Guide 6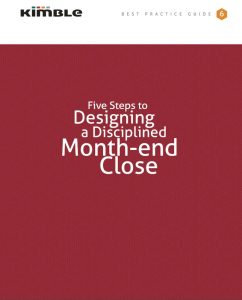 As new technology creates the potential for more data collection, consulting organizations have to rethink how best to flow the information into the decision-making process and then put it away. But this process can be challenging in a rapidly-growing business.
One of the most common mistakes that businesses make when managing their data is that they do not provide the discipline that is required to continually close out the weeks and months, put them away and move on.
Having every department keep to the same time signal helps the business move  forward together and that is why focusing on creating a regular cadence around month-end close is a powerful driver of business success.
This Best Practice Guide suggests five simple steps to disciplined month-end close. Used positively, this can help to build a metronome for your business.