Kimble Wins Top ISV Award from Salesforce
Kimble is thrilled to announce it has been recognized with a "Top ISV Award" for recognition of outstanding contribution and partnership with Salesforce.

The award was accepted on behalf of Kimble by Nev Gibson at the 4th annual Salesforce Alliances & Channels UKI Awards in Cowes on June 21, 2017, at the close of the annual Regatta.
Last year, Kimble attracted many marquee brands with tens of thousands of users between them, either bringing them to the Salesforce platform for the first time or increasing their presence there.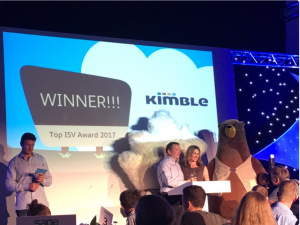 Kimble's high levels of customer satisfaction makes it the catalyst for other Salesforce ISV applications (like Sage, Conga, Jobscience and Fairsail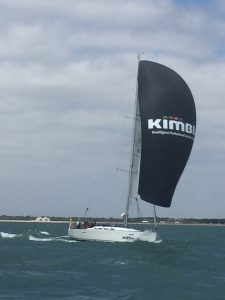 ) and Salesforce's own products. Many customers, having selected Kimble and had a positive experience, go on to adopt a Salesforce strategy.
Kimble is proud to be a gateway to Salesforce and continues to exploit all of the potential of the Salesforce platform –  one of the first ISVs in UKI to become Lightning ready, also in 2016.
The Kimble spinnaker at the Alliances and Channels Sailing Regatta 2017.